In need of a change? Something to brighten up your home as we move into Spring? 
Here's my run down of the new releases - fabrics, products and trends to keep an eye on...
Rugs
Make a big impact with colour and pattern by investing in a new rug- something colourful and fun to draw your attention. If you've got a room than needs drawing together with something to make it more cohesive, perhaps add in a patterned rug- picking out some of the main feature colours from your walls/ fabrics/furniture. A patterned rug in a big space can help to make the whole design work together better - your eye see's through it rather than stopping on bold block lines or single colours.  I love the mix of designs at Shame Studios- my picks below!
Or keep your eye on the @edit.58 Instagram account run by Lisa Mehydene. Lisa is always sourcing beautiful vintage rugs with pretty spring patterns. 
The advice with rugs is always to go as big as you can afford!
 Blue + Orange 
Alongside green and pink, this combination of sky blue and vibrant orange might just be my favourite colour palette at the moment. Brilliantly achieved here in the home of Lucy Williams @lucywilliams02
Sky Blue is nice and calming and the orange gives richness and warmth. You could play around with different shades of orange too, from bright Calipo orange to autumnal mustardy ochre....
Cushions are an easy way of injecting new colour and something fresh into your space without breaking the bank. Our linen cushions, available in a range of colours are the perfect sofa staple . I'd pick the Tourmaline blue (£48), available with a feather cushion inner too. 
Aleta Fabrics
Home to some of the most beautiful and delicate designs. Perfect for lightweight curtains or blinds. I'm particularly fond of the 'Volubilis' hand block printed cotton (far left) or 'Nargis' on white with that rich orange tone. 
There's also a lovely mustard stripe on the way too. Email Aleta for details on the fabrics and pricing. Floral fabrics that will add a softness to any room. 
 Artwork 
Adding in a new piece or artwork or even re-framing and rearranging the pieces you already have, will make a big difference. 
The bold colours of Terence Finch's first collection with Partnership Editions would definitely help lighten the mood on the grey, rainy days. Blocks of colour and clever palettes - I'd snap one up before everyone knows about this talented American painter!
'Adhesion' £175 available on Partnership Editions
Lisa Hardy's stunning watercolour paintings are bound to evoke memories of spring. A row of these framed above a bed would be lovely. 
Hyacinth Study V £150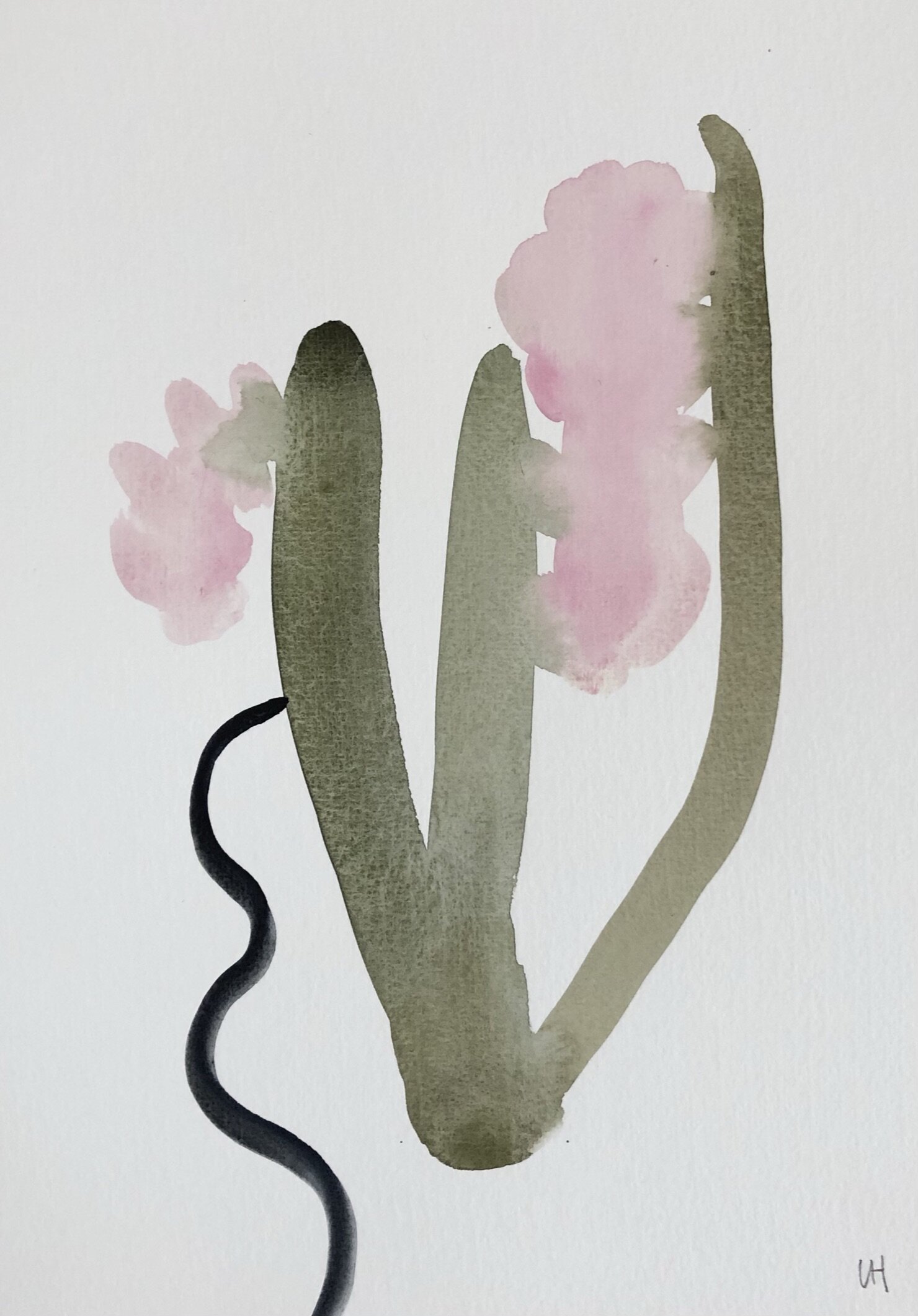 Under-the-Counter Curtains
As mastered by East London Cloth, the under-the-counter curtain is an easy and effective way of both hiding unsightly appliances and adding a splash of colour and pattern. They can also be cheap to make too and pretty easy to have a go at yourself if you've got a sewing machine to hand...!
Or shop beautiful ready-made linen pieces from Gemma at East London Cloth. 
Fun Vases for Spring Flowers
The sight of Snowdrops, Crocus and the first Daffodils are such a heavenly welcome to the end of winter. Add some fresh spring flowers to a new colourful vase or jug and everything will feel better...
Shop our Casa Cubista striped jugs online now- in bold blue, green and black. 
Lucy Rutter yellow vase £30, available at Toast