This week we've had the plasterers back in our flat. I'm repainting 2 rooms after realising the colours I'd originally picked for the spaces just weren't quite right. Choosing paint colours is hard..... and can seem super overwhelming with the amount of choice out there. Make sure you take your time and try the colour in lots of different lights and parts of the room - DEFINITELY paint on a piece of card or paper though and tape it on different walls (if you paint all over the walls themselves you can end up with patches being really hard to paint over!)
To try and help, I'm going to talk you through some of my favourite paint colours below and how to use them..!
Green: 
It turns out, I really love green. In fact, if you scroll down my instagram feed, it becomes pretty obvious. There's a reason green is having a resurgence and why we feel such a connection to the colour. It draws the outside in and is particularly effective if used by a window. Use green boldly- don't be scared of it- some of my favourite interiors recently have used green with real purpose- be it dark and moody olive green like Bancha by Farrow & Ball or the bright Invisible Green of Edward Bulmer. It's rare that I step into a green room that I don't like. Don't be scared to use quite a bright green - as Rita Konig said when designing her living room below, it seems SO scary and overwhelming when it's the first thing that goes up in a room but fades to the background once you add in furniture, rugs, artwork, lamps. You have to hold your nerve...
Rita Konig's Durham Farmhouse - Invisible Green. Below that- Hopper Green by Little Greene + then Bancha by Farrow and Ball. 
 Pink As A Neutral
Once you start to think of pink as a neutral, it really does seem to work in most instances. For example, I've used Stony plaster by Atelier Ellis on the walls in our north-facing living room - a very soft pinky/grey in the day time that takes on a beautiful peachy warmth come evening. 
The south-facing kitchen again, is another shade of pink. This time, China Clay Mid by Little Greene- a slightly cooler, cleaner grey/pink that works beautifully with the dark studio green of the kitchen cabinets. 
China Clay Dark - Little Greene (photo credit)
Other pink shades in my samples draw include the lovely Jonquil - an elegant, inviting pink that gives your rooms that grand, drawing room kind of feel or Plaster II by Paint and Paper Library. 
Most rugs seem to sit well with pink - it's a brilliant base for a room full of pattern too or darker antique furniture. 
Jonquil - by Edward Bulmer Paint. Below- Atelier Ellis - Stony Plaster.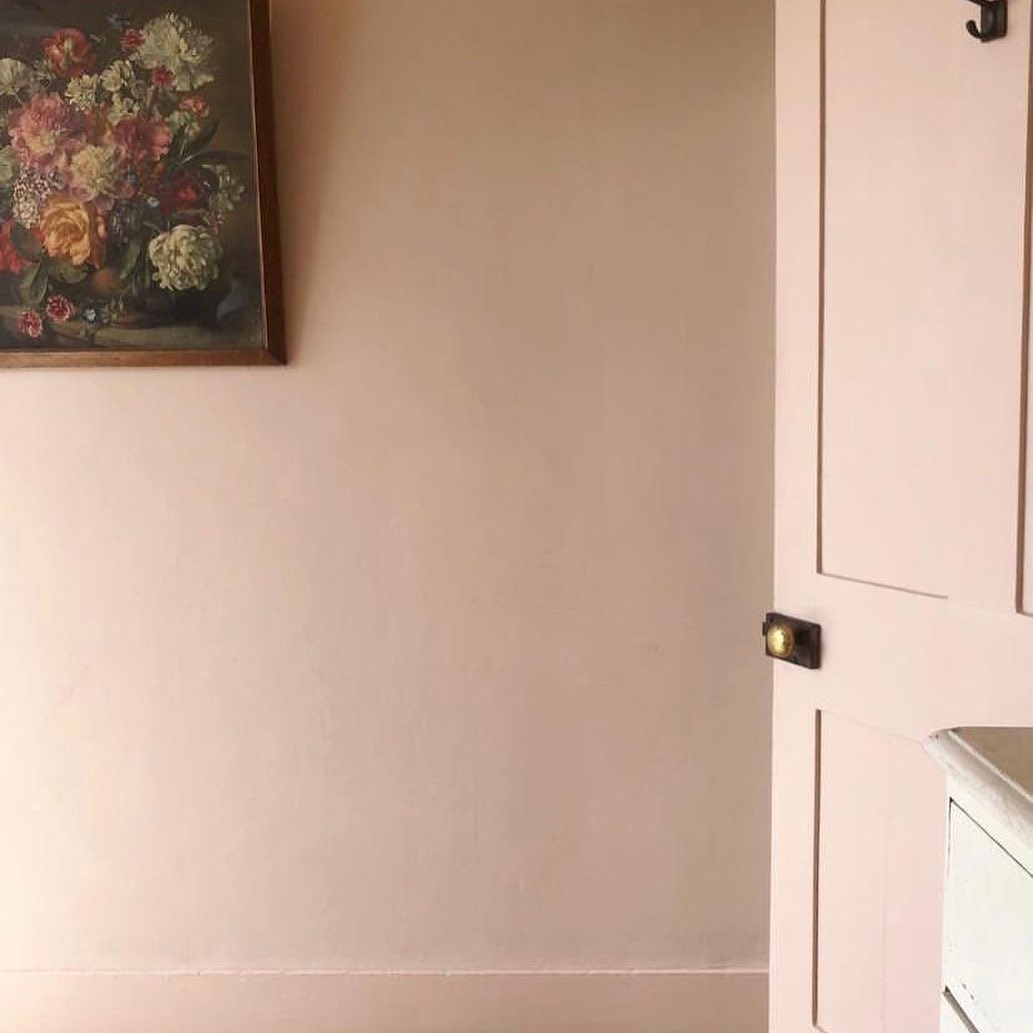 Below- Setting Plaster in the home of Chris Graves from Clarence & Graves (photo- Owen Gale). A go-to pink for interior designers and gorgeous here against the contrasting Arsenic woodwork. 
Lilac Pink by Edward Bulmer in this beautiful project by Sarah Brown Interiors:
Blue Is Back
I'm really enjoying the recent return to bold blues. Glossy blue wardrobes, bright blue woodwork... it's both an energising and very calming colour. I find it's quite a tricky one to get right - too light and it can look a bit too baby blue...., too much of it in one room and it becomes overpowering and stuffy. 
In our master bedroom I went for blue wardrobes as a pop of colour - these are Lulworth Blue by Farrow & Ball in an eggshell finish. The touch of blue is echoed throughout the rest of the room scheme in a block-printed throw (added post-photo) and the striped bedside lamps. 
I'd love to include a bit of Cobalt Blue in the flat somewhere too - perhaps in the design for our home office. I've fallen in love with the colour since I began to stock these Candle Flair tapers! 
 Below - Francesca Lagnese - photo credit - room design by Nick Olsen. 
Above- Benjamin Moore - Thunderbird Blue. The turquoise blue here works brilliant in contrast to the red trim and contrast piping which add a freshness to what could be quite a drab colour scheme. (Photo Credit- Krill Istomin Interior Design). 
The Best Whites Which Aren't Really White
Neutrals I find the hardest to pick. It all depends on the light in each room, how it changes throughout the day and what colours I want to accentuate in the rest of the colour scheme.
There are yellow-based whites, green or grey based whites, cool whites, warm whites......SO many shades of white. Most of which, I wouldn't really consider white at all!
I've narrowed it down to my favourites:
Slaked Lime by Little Greene - we have this in our bedroom and it's instantly calming and works at all times of day. 
(Slaked Lime seen here in the kitchen by A Studio Named Four.)
 or Shaded White by Farrow and Ball:
 (Below- Shaded White - photo credit - @Kerryvillers)
What is your paint made of?!
It's really important to check what your paints are made of. Are they made from naturally occurring materials? Can you dispose of them safely?
For this reason, I really love working with companies such as Edward Bulmer and Earthborn who prioritise the sustainability of their processes and ingredients. 
Edward Bulmer's paints are made from mineral raw materials or plants, even more important when it comes to safely washing your paint brushes and disposing of leftover paint -  read more about the issue in a Insta post by the founder here. 
Most importantly, if you love the colour and it makes you happy, then go for it. Some might love it, some might hate it but in the end it's just paint and something you can change down the line if you really wanted to. Our bright green woodwork in the hallway is a real conversation starter when your enter - some people love it, others not so sure, but I ADORE it and that's all that matters!
Katie x